¡El Famoso Abogado Gilberto García gana otro importante caso por la hermana Celia Cruz y la hija de Pedro Knight!
Corte de EE UU declara responsable de fraude a Luis Falcón, ex albacea de Celia Cruz
La demanda fue presentada por Gladys Becker, hermana de la cantante, y Ernestina Knight, la hija de Pedro Knight.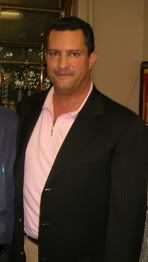 Photo: Consultingworks
Recognized as The Best Cuban-American Lawyer and a Top Lawyer in the Country, Law Professor Gilberto García, Wins Celia Cruz Case on Behalf of her Family!
La corte federal en Newark, Nueva Jersey, ha dispuesto que Luis Falcón, ex albacea de Celia Cruz, es responsable de fraude contra la hermana e hijastra de la cantante y deberá pagar por los daños punitivos, informó El Diario/la Prensa.
Según el diario, citado por EFE, la decisión de la jueza Katherine Hayden, del pasado 31 de julio, señala que Falcón es responsable por el fraude del que fueron víctimas Gladys Becker, hermana de la Guarachera de Cuba, y Ernestina Knight, la hija de Pedro Knight.
"Falcón hizo una mala representación concerniente a los derechos que las demandantes tenían para cobrar el seguro de la anualidad, causando que ellas perdieran este ingreso", señaló la decisión de la jueza, quien justificó el caso en toda la prueba presentada para evidenciar que se cometió fraude.




Luis Falcón, encontrado culpable de fraude en la corte federal de Newark, New Jersey. Photo AP


Gladys Becker emprendió a mediados de 2005 una demanda contra Falcón y Knight, a quienes acusó de apropiarse de 415.000 dólares que le correspondían, producto de un seguro de su hermana que le incluía como beneficiaria.
Luego, Ernestina Knight también los demandó por haberla engañado con el mismo propósito, ya que era otra de las beneficiarias del seguro.
De acuerdo con el rotativo, Falcón, que tras la muerte de Cruz pasó a ser uno de los albaceas de su herencia, y Knight, su viudo, citaron a Becker y a Ernestina en agosto de ese año en un banco en Manhattan para abrir una cuenta a nombre de las dos y depositarles el dinero que les correspondía.
Debido "a las circunstancias únicas en el caso, específicamente porque Falcón se ausentó durante todo el proceso de litigio, las evidencias respaldan que se fije el pago de dinero por concepto de daños punitivos", apuntó la jueza Hayden.
Falcón expresó al diario que no le interesa comentar sobre el caso. "Continúo con mi conciencia muy tranquila", agregó.
En tanto, Becker dijo al rotativo que la decisión de la corte federal prueba que ella y Ernestina fueron "engañadas" y que desde el comienzo dijeron "la verdad".
"No ha sido un proceso fácil para ninguna de las dos. Ahora sólo espero que la justicia haga cumplir su orden", afirmó Ernestina.
"Pero es hora de que él (Falcón) rinda cuentas no sólo del dinero que nos quitó a mí y a Gladys, sino que diga dónde está lo que dejaron mi papá y Celia. He pasado mucha angustia cuando pienso cómo puede haber una persona tan mala como él", dijo la hija de Knight.
El abogado Gilberto García, de la firma García and Kricko quien representó a ambas mujeres, comentó que se logró probar que Falcón "actuó con maldad e intención de acaparar el dinero que Celia Cruz dejó para su hermana e hijastra".




17 months ago: Omer Pardillo, left, Celia Cruz's manager and the co-executor of her estate, arrives at the Frank E. Campbell funeral home before the funeral of Cruz's widower, salsa trumpeter Pedro Knight, Tuesday, Feb. 13, 2007 in New York. Pardillo is suing his co-executor, Luis Falcon over what he says is the mismanagement of Cruz's estate. Photo AP.


Lea toda la historia AQUI.
Also read THIS related story.
Gracias Enrique.